1966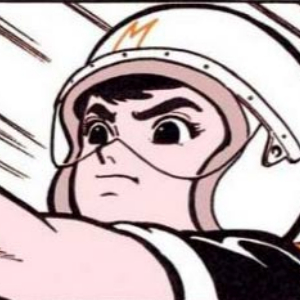 Speed Racer might've become popular abroad as the sometimes meme-worthy 60s anime, but as it is often the case with anime, manga came first. It was called Mach GoGoGo.

And Speed Racer, believe it or not, had an actual japanese name before it was so brutally localized. It's Go Mifune. Yup, if you ever looked at this guy and wondered why the hell he has a G on his shirt — that's literally why. And Trixie's M stands for Michi. And yes, the GoGoGo part is a pun both on his name and the Japanese word "five". Like Mach 5.

I digress. The manga by Tatsuo Yoshida pioneered in the 60s, almost at the same time as the anime. The latter actually explains the huge differences in story arcs between manga and anime. Because there are A LOT of those. A character who's alive in the manga is dead and impersonated by another character in the anime? Sure. A character's arc is split and half of their screentime goes to another character for some reason? Sure! A major character faces a life-changing decision and chooses the complete opposite? SURE. I will say I like the manga more in some aspects. Although I've finally read it like fourteen years after I've watched the anime for the first time.